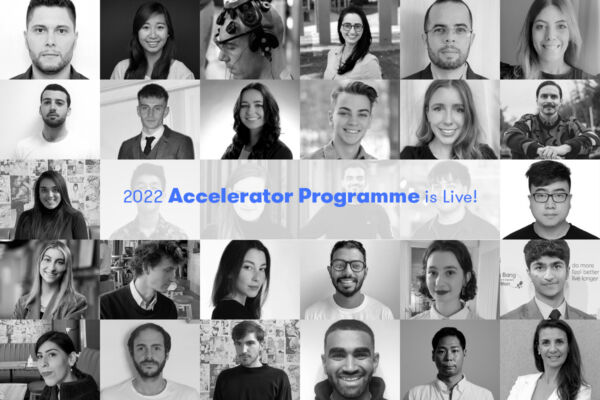 From an app to support dementia patients' caretakers and hardware that aids individuals on the autism-spectrum, to a shoe revolutionising footwear production and a platform connecting fitness hardware to e-sports, the projects participating in the Prototypes for Humanity Accelerator 2022 reflect some of the societal concerns and innovation capabilities of our times.
This year 29 university graduates from 12 countries across four continents are working on 11 social-impact innovations that solve a diverse set of challenges in fields including mental health, fitness, smart materials, waste and overconsumption, sustainable agriculture and public sector.
Now in its fourth edition, the 10-week programme brings together international specialists in the fields of venture building, deep tech, impact and venture capital, alongside founders and senior executives from global startups. Designed and led by INSEAD professor and serial entrepreneur Adrian Johnson, this year's online programme is divided into six modules, with a focus on business model validation and investment-readiness, and includes lectures by international venture specialists and entrepreneurs, asynchronous work, mentorship sessions with industry specialists, pitch practice, and is supplemented with an interactive learning platform featuring a curated selection of literature and references. Teams will have the opportunity to interact with investors and industry partners throughout the programme, with a demo day marking the end of their acceleration journey.
Since 2019, the programme has continued to develop a proprietary model that fosters remarkable innovations coming out of academia, a sometimes overlooked area by traditional venture capital. The goal is to support high-potential impact solutions at an early stage, when they need it the most in order to increase the pool of projects that can move closer to real-world implementation. 
Projects are selected based on impact potential after completing the Prototypes for Humanity online training, and participants can also participate in the Prototypes for Humanity exhibitions.
The programme is part of Prototypes for Humanity's yearly initiatives supporting academic innovators in taking their ideas further, held under the patronage of Her Highness Sheikha Latifa bint Mohammed bin Rashid Al Maktoum, in partnership with Dubai Culture and Arts Authority and A.R.M. Holding.
2022 Prototypes for Humanity Accelerator Cohort
AlgoBio
Algrow
DemiCare
Farmelody
Kinix
Stimully
Parametrika
Ramel
Reality
Trax
Vorkoster